Established in 1889, 'Cathays Sport and Social Club' welcome all people of all ages (they are particularly well known for hosting a lot of 18th, 21st and 60th birthday parties for all residents and students.) You can always find a long term Cathays resident in there to regale you with a good anecdotal story of history of the area.
The newsletter volunteers have many meetings in both Cathays clubs and it has been a fantastic place to make new friends.
"We do free room hire for charities; the recent refugee support gig was held in our 'concert room' for instance." – Fran (Entertainment officer)
Our student community have become a staple of our regular events on Wednesdays and it has been a fantastic student and resident relationship building experience in the mid 2010's onwards.
Overall the Cathays Sports & Social (and also the Cons Club, Cathays) have enjoyed a strong bond with the local student sports teams and our students have been praised by the regulars at the club for our students conduct and building a good relationship based on trust in the most recent years.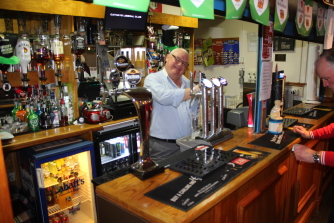 Additionally Cathays Brass practice every Monday evenings from 7pm and new musicians (and fans) are always welcome to join in. Every Saturday it is either free juke box night or we have a singer or band come in and perform.
"We have usual debates everyone enjoys partaking in – particularly the recent 'your brain's an idiot' which was packed out" – Stuart (Committee member)
"The bingo is always popular, we have a £100 snowball for the lucky winner on Sundays" – Diana (Committee member)
We have no political affiliations and all residents and students are welcome to come and enjoy our:
| | |
| --- | --- |
| Monday | Skittles (all week too) / Brass Band upstairs |
| Tuesday | Free Pool (in the bar – not downstairs) |
| Wednesday | Student Night (separate room to regulars) |
| Thursday | Bingo 9:15pm & 10pm / Pool + Snooker |
| Friday | Regular chilled Friday evenings |
| Saturday | Bingo 10pm / every other Saturday singer |
| Sunday | Bingo 8:45pm |
Opening hours: 
| | |
| --- | --- |
| Monday | 3pm – 11pm |
| Tuesday | 3pm – 11pm |
| Wednesday | 3pm – 11pm |
| Thursday | 3pm – 11pm |
| Friday | 3pm – 12am |
| Saturday | 12:30pm – 12am |
| Sunday | 12pm – 11am |
Contact us:
Please come and see us at 152-156 Cathays Terrace, Cardiff, CF24 4HZ. Contact Cathays Sports and Social on 029 2022 0906 or cathayssportssocial@mail.com.
We look forward to welcoming you soon.
John (Committee member) – Cathays Sports and Social Club